Veterans Day Dedication of Four Chaplains Memorial
Every year the Harvard Veterans Alumni Organization partners with Harvard University and Memorial Church to conduct a Veterans Day service. But this year is extra special! Not only is it the first Veterans Day Event after major renovations to the Church which honors World War I Veterans, but the newest addition to the Church will be added - a memorial to the Four Chaplains. It will join our larger, earlier gift of the Medal of Honor stone, and both will remain on the walls of the sanctuary in perpetuity, along with memorials to the more than 1,100 hundred Harvard War Dead since World War I. Do you know the story of the Four Chaplains? It's an inspiring tale of four Army chaplains who, after their military transport ship was torpedoed by the Germans in route to the European front in WWII, ushered and calmed Soldiers, and eventually gave away their life jackets and perished at sea. Those four Army chaplains are: Lt. George Fox, a Methodist; Lt. Alexander Goode, a Jewish Rabbi; Lt. John Washington, a Roman Catholic Priest; and Lt. Clark Poling, a Dutch Reformed minister. These four men of different religious doctrines met at the Army Chaplains School at Harvard in the Fall of 1942. The Harvard Veterans Alumni Organization is proud to honor these four Veterans in a visible and meaningful way on campus. Will you join us?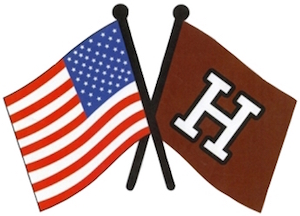 When
Saturday, November 11, 2017 at 11am
Where
Memorial Church
1 Harvard Yard
Cambridge, MA 02138
No RSVP required.
Support the Four Chaplains Memorial Tablet
Can't join us in November? You can still be part of this event! We look to raise $15,000 to fund the preparation and installation of this gift from Harvard's Veterans and Active Duty Military, and we're half way to our goal. 100% of all funds apply directly to this project, and any residual funds will support ongoing, on campus, programs of the Harvard Veterans Organization.
Please make all donations either by PayPal or by checks, made to Harvard Veterans Alumni Organization, sent to our Treasurer:
HVAO
c/o Mr. Greg Adams
4761 35th Ave, NE
Seattle, WA 98105
HVAO is a 501-c19 (Veterans) non profit corporation, and an independent Shared Interest Group (SIG) of the HAA. It is 100% volunteer run, and funded by Harvard Veterans and friends.
Please direct questions and comment to us at harvardveteransorg@gmail.com.

If you know someone who wants to be added to our distro, have them sign up here.
---
Can you support the Harvard Veterans Alumni Organization? We are looking for a few alumni Veterans who would like to participate in the leadership of the Harvard Veterans Alumni Organization. Send a few details of Harvard and military background to us at harvardveteransorg@gmail.com.
---
Over 1,350 Harvard affiliated students, faculty, and staff gave their lives establishing and protecting our nation and freedom around the globe. Let's make them proud.
"Enter to grow in wisdom, depart to serve better thy country and thy kind"
– inscription on Dexter Gate, Harvard Yard
"While a bright future beckoned they freely gave their lives and fondest hopes for us and our allies that we might learn from them courage in peace to spend our lives making a better world for others."
– inscription inside Memorial Church